YOU HAVE A RIGHT TO DISPUTE ANYTHING AND EVERYTHING ON YOUR REPORT
THE LAW SAYS YOUR REPORT MUST BE COMPLETELY ACCURATE AND VERIFIABLE OTHERWISE THE ITEMS MUST BE REMOVED. BUT IT"S NEARLY IMPOSSIBLE FOR BANKS TO COMPLY.

FORTRESS UNIVESITY WILL EMPOWER YOU WITH THE EDUCATION NEEDED TO HAVE GREAT CREDIT AND FINANCIAL SUCCESS, WHILE WE DISPUTE ITEMS ON YOUR BEHALF.
CALL TODAY TO SPEAK TO A CREDIT EXPERT 800-475-7267
ON AVERAGE, OUR CIENTS SEE A 50-150% deletion rate
and a 50-150 INCREASE IN JUST 3-6 MONTHS!
OUR SUCCESS RATE IS MORE THAN DOUBLE OUR COMPETITION. AND SIMPLY BECAUSE WE ONLY GET PAID IF WE SUCCEED.
Only Pay if We Succeed!
$125 / Deletion
$375 Enrollment
$375 First Deletion
$125/ Additional Deletion
$25 Inquiry Deletions
Financing available. As items are removed, we will increase the total balance and allow you to pay it off over time for under $125 a month.
Guarantee* If nothing get's deleted in 6 months, we will refund their enrollment.
with Unlimited Repair
$77 / Month with Financing
We revolutionized the credit repair industry, again.
Now with advanced repair and tactics for life.
Fortress University members will receive unlimited credit repair for life for no additional charge.
Courses on Tax, Wealth, Credit, and Investments
100% Tax-deductible
Membership is $1997 financed over 36 months. 12 months same as cash.
Guarantee* Full refund if nothing is removed within 12 months.
Business Funding Guaranteed
$189 / Month with Financing
Obtain up to $50k in business lines of credit regardless of business history, or personal credit score with our go at your own pace coaching program.
Platinum University members will receive unlimited VIP White-Glove Credit Repair
ALL University courses on Credit, Tax, Wealth, and Business Credit
100% Tax-deductible
Membership is $4997, or $360 a month for 36 months. 12 months same as cash.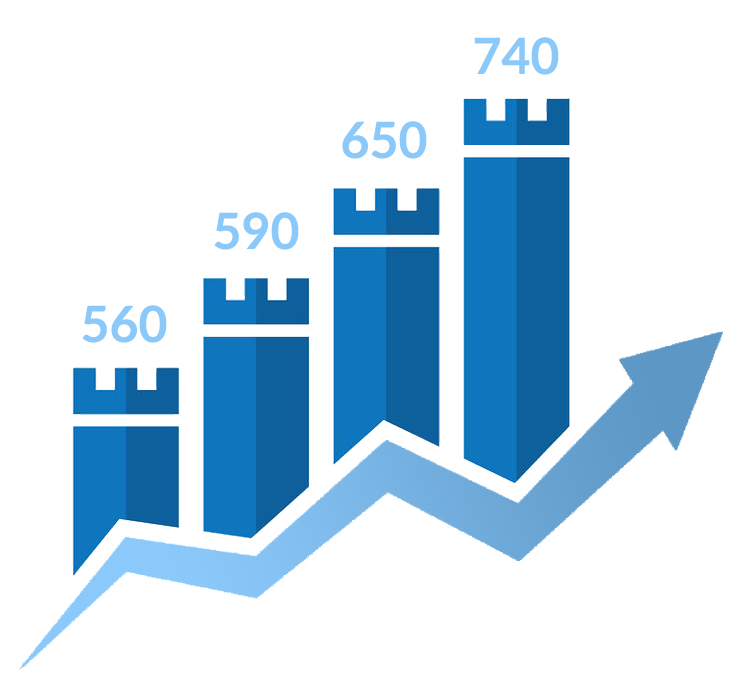 WE DISPUTE EVERYTHING AT ONCE
Monthly fee companies will dispute 1-2 accounts at a time, dragging the repair our for as long as possible. All while charging an endless monthly fee, regardless of results.
Whether you sign up for pay per delete, or Fortress University with unlimited repair, our goal is to complete your repair as soon as possible.
On average we see a 50-70% in 3-6 months.

When our team of seasoned FICO Pros, paralegals and dispute processors examine your credit report we'll identify the violations and create a detailed written dispute on your behalf.
To make it challenging for the creditor we'll provide them with the specific state or federal law they are violating, why they must remove the item, and the legal consequences established by case law if they don't respond immediately.

CUSTOM PLAN TO REACH YOUR GOALS
Whether you are trying to buy a home in the next year, or just filed bankruptcy, wWe have plans and options to help set and achieve your goals.
During the initial consultation, a credit expert will review your report and your goals to access what you'll need to get there. During the repair, your client advisor will work with you on coaching calls to encourage and guide you.
i came across Fortree credit pro on Fb in April 2021 i called talked to Vanessa i really like what vanessa was saying since April my credit score went up 60 points 8 inquiries been removed. if you have things on your credit i would highly recommend Fortree credit pro All the staff are professional Always willing to help. I love ❤ Tuesday night the Ceo does a yoube teaching about credit you can ask questions & come on live to talk to Rodni. I ❤ I can call me credit counselor Vanessa ask questions she is very sweet I feel like I have met a long time friend Vanessa is always willing to help so if you have credit problems call Fortress credit pro ask for Vanessa tell her Christopher Maddox said Hello.
― Christopher M


I absolutely love Fortress Credit Pros. I've been able to learn so much about credit in such a short amount of time. I don't think I could learn this much, this quickly anywhere else. I've been working with Vanessa and she has been incredibly helpful. I've had a million questions and they've all been answered to my satisfaction. Anytime I have had any type of confusion or anxiety about this new journey in finance, I've always gotten a quick response with detailed answers. I went into this program knowing literally nothing about credit and never having used a credit card before. Now I have all my bills set up on autopay so that I never get a late fee. If I'm out traveling, I never have to worry about missing a bill. I was able to secure $50,000 in business credit in the first 10 days that I worked with this company. I have a new truck on the road and I doubled the income of my home service business. The information you receive from fortress credit pros is absolutely life-changing. It's something that everybody should know, but nobody is teaching.
― Rob W

Rondi and his company/employees are amazing, super helpful and they are already deleting negative items on my credit. This plus the knowledge rondo provides is worth more than he can ever charge. 100% recommended.
― Ivon F


Fortress got my credit score up from less than 500 to over 700 in just over a year. They are the most elite amazing credit repair company in the world in my opinion. You only get billed if they remove Negative items off your credit report their very personable and work with you and answer any questions you have in a quick response. Thank you guys so much!
― Eric H